Terra Lu Travel can arrange family or church trips to the original places ancestors came from. Journeying in search for your family roots can add new life to the marriage records, obituary records, and family lore you've learned about while researching your family history. Prussia and Silesia, Brandenburg or Baden - whether the towns and villages are today in Germany or maybe Poland, the Czech Republic or Scandinavia: send us a list of the places, and we'll put together a very private family roots tour.
Terra Lu Travel is owned by Rev. Christian Utpatel, a Lutheran pastor who did a lot of heritage researches for groups from North America, Australia, and even Germany. In fact most of "regular tourist tours" touch a little heritage travel since families find their roots along the road. Terra Lu tours always are individually designed to the specific wishes of the groups.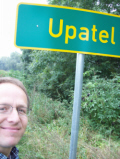 Terra Lu owner Christian Utpatel searches his heritage in Pomerania - and misses a "T"